UltraXtend is a powerful Wi-Fi ranger extender that improves your Wi-Fi coverage in your home. It eliminates blind spots, boosts signal strength up to 300 Mb/s and ensures a reliable connection for multiple devices at the same time. Thanks to its easy plug & play installation, modern design and optimal price-performance ratio, UltraXtend is the ideal solution for a faster and stable Internet connection.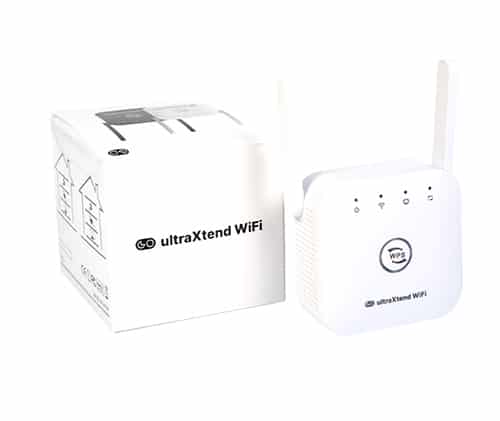 UltraXtend is now available in the UK directly from the manufacturer at a special low price.
UltraXtend Wifi Booster reviews & experiences
No more blind spots in your home: No more frustrating blind spots where the Wi-Fi signal is weak or non-existent! UltraXtend eliminates this annoyance and provides even coverage in every room of your home.
Higher internet speed for ultimate surfing pleasure: With UltraXtend, you will experience a noticeable increase in your internet speed. The device boosts the existing signal, reduces signal drops over distances and thus enables faster and more reliable surfing.
Best performance for all your devices: Whether you use smartphones, tablets, laptops or other smart home devices, UltraXtend ensures that every single device benefits from a stronger and more stable signal. So your connection always remains stable, even when many devices are connected at the same time.
Super-fast and foolproof installation: Forget complicated set-up processes! UltraXtend offers a plug & play installation. Simply plug it into a wall socket, connect it to your existing network and enjoy improved coverage in no time.
Modern design that complements your décor: The UltraXtend Wifi amplifier has been designed with a modern and unobtrusive look. It blends seamlessly into your home décor without being ostentatious.
Expandable range as needed: Do you have a large home or walls that dampen the Wi-Fi signal? No problem. You can easily use multiple UltraXtend Range Extenders to extend coverage even further and eliminate even the most stubborn Wi-Fi dead spots.
Optimum value for money for your family: With UltraXtend, you invest in a reliable and affordable solution to provide your family with stable Wi-Fi around the clock. That means less frustration with slow connections and more time for what really matters.
24/7 connection at maximum speed: Thanks to UltraXtend Wifi Booster, you'll always stay connected with the fastest connection wherever you are. No more downtime due to weak signals – enjoy a reliable connection around the clock.
Increase internet speed: UltraXtend not only optimises range, but also improves the speed and performance of your internet. By amplifying the signal, it minimises speed loss over distances and enables a seamless online experience.
Simplicity for your device diversity: If you have many WiFi enabled devices, UltraXtend will make your life easier. It ensures that every device gets a premium connection, which is especially beneficial when multiple devices are in use at the same time.
Enjoy the benefits today: Improve WiFi coverage in and around your home. The foolproof plug & play installation, the high data transmission speed of up to 300 Mb/s and the modern design make UltraXtend the ideal choice.
For a short time available with up to 60% discount in the official online shop.
Buy UltraXtend WiFi Booster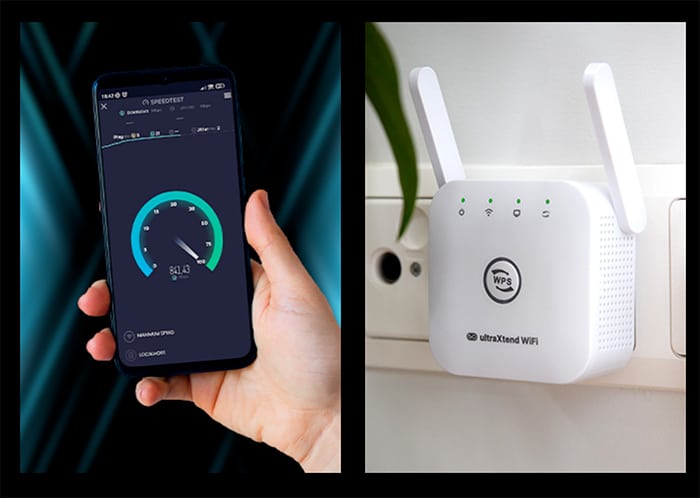 UltraXtend review UK – The areas of use
Just a few of the main areas of application where the UltraXtend amplifier comes into its own:.
1. Homes and flats: The UltraXtend Wifi Booster UK is ideal for homes and flats of all sizes. It eliminates Wi-Fi dead spots and provides consistent coverage in all rooms, from the basement to the attic.
2. Offices and home offices: In work environments, a reliable internet connection is essential. The amplifier improves signal strength and speed, which has a positive impact on video conferencing, file uploads and downloads, and overall productivity.
3. Large homes and villas: In spacious residences with many rooms and floors, Wi-Fi coverage can be a challenge. The UltraXtend amplifier extends coverage and ensures every room has a strong connection.
4. Multi-storey buildings: Stairwells and floors can be Wi-Fi weak points. The repeater bridges these obstacles and ensures a stable connection on every floor.
5. Home entertainment areas: If you want to stream movies and music in the best quality, the UltraXtend amplifier provides a stable connection for uninterrupted entertainment in every room.
6. Online Gaming and Streaming: For gamers and streaming enthusiasts, the amplifier eliminates lag and buffering for a smooth experience.
7. Smart Homes: In a connected home, strong connectivity and smooth communication between devices are critical. The amplifier ensures that all smart home devices function optimally.
8. Holiday homes and rental properties: Even in temporary or rented accommodation, the UltraXtend amplifier can provide a reliable Wi-Fi connection and make the stay more enjoyable.
9. Office communities and co-working spaces: In shared offices, the repeater ensures consistent connectivity for all users without bottlenecks.
10. Restaurants and cafés: Hospitality businesses that want to offer Wi-Fi to their customers can use the UltraXtend amplifier to ensure a stable and powerful connection.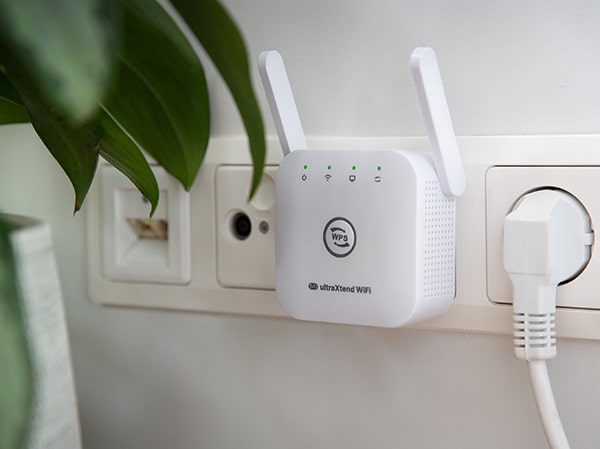 Technical features
The UltraXtend wifi booster UK offers an impressive range of technical features to help optimise Wi-Fi connectivity and improve connectivity in a variety of environments:
Signal amplification and speed: With signal amplification, the UltraXtend amplifier achieves impressive speeds of up to 300 Mb/s. This results in faster and more reliable internet speeds, especially in areas with weaker signals.
Frequency bands and compatibility: The amplifier operates on multiple frequency bands, including 2.4 GHz and 5 GHz. This versatility ensures optimal performance and compatibility with a wide range of routers and networks.
Coverage range: With its extended coverage range, the UltraXtend amplifier easily bridges Wi-Fi dead spots and provides reliable connectivity in large flats, houses or office buildings.
Connection density and device support: The amplifier easily handles the simultaneous connection of multiple devices without compromising signal strength or speed. This is especially beneficial in homes or offices with many users.
User-friendliness and installation: The plug & play installation of the UltraXtend amplifier is extremely user-friendly. With clear instructions and a straightforward setup process, users can quickly benefit from enhanced connectivity.
Design and placement: The amplifier's modern and unobtrusive design blends seamlessly into any environment and allows for discreet placement without compromising the aesthetics of the room.
User manual: Easy to understand instructions included. Easy troubleshooting.
These technical features of the UltraXtend WiFi Amplifier help transform the Wi-Fi experience and ensure reliable, high-performance connectivity in a variety of environments.
Buy UltraXtend WiFi Booster at the lowest price in the UK